We've compiled a list of 5 quilting trends that you'll want to watch for this upcoming year and into 2023. We've sourced examples of what the most forward-thinking makers and designers in the quilting market are releasing, and we cannot wait to see these come to LIFE!
We quilters usually follow social trends, but we're turning the tables with this one and becoming trendsetters! While quilted clothing (and coats, especially) have always been a pillar of the quilting market, it's building momentum with the mainstream population!

FreeSpirit Fabrics just hosted their own Quilted Coats competition...if you missed it, go check it out!

This beautifully quilted coat by Brittney Frey of Sew Much Fab is transformed from a jacket into a head-turner with simple applique.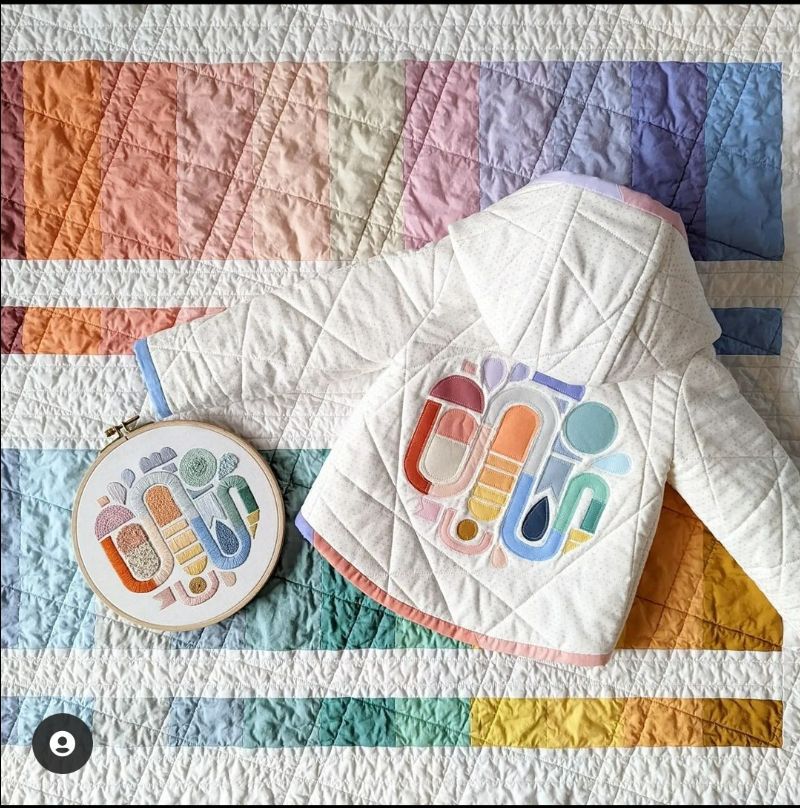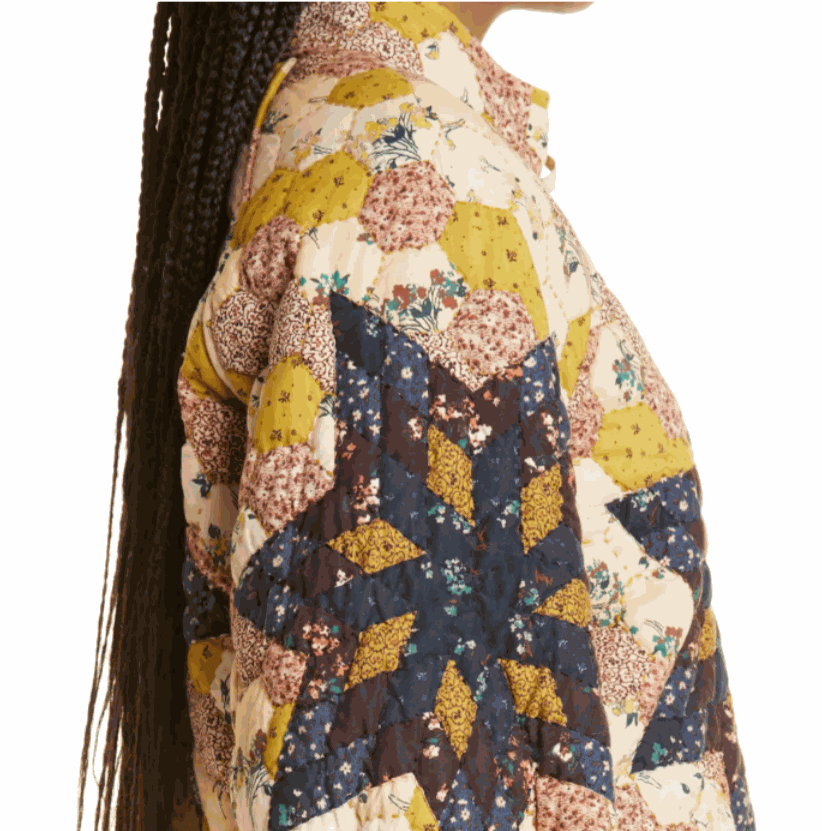 For example, look what hit Nordstrom's racks last season! Quilted jackets are mainstream, people! And that goes for vintage prints and modern cozies alike! 

Mandy from @sewquirky designed "Budgie Buddies," and @jenfoxsews made this cozy sweater featuring her applique! Pick it up as a wholesale limited-edition laser-cut kit HERE.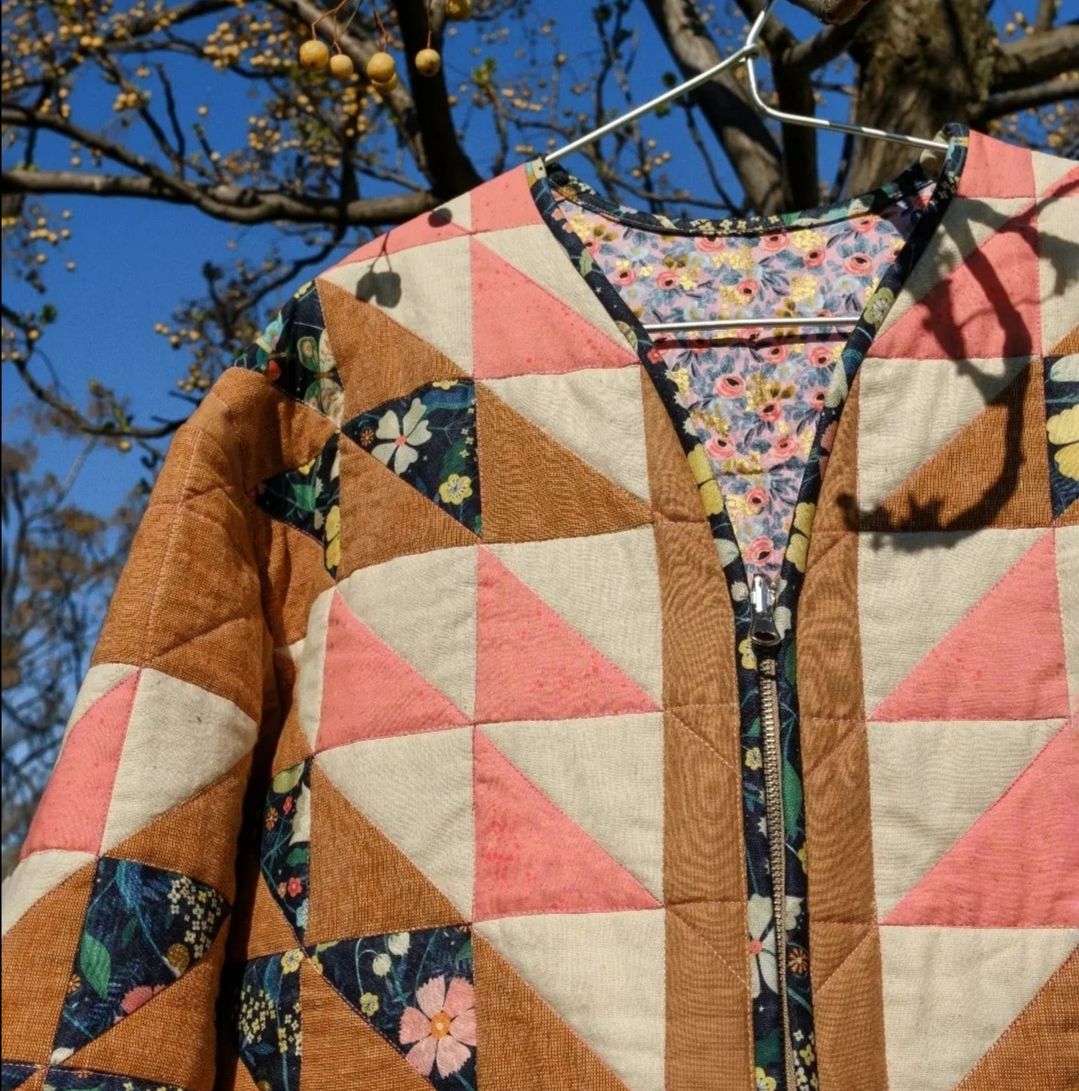 @quiltingmaggie 's delightful quilted jacket) is a pattern meant to use up all your delicious scraps. We love those HSTs and vintage prints!

We're drooling over @sewquirky's "Jagger" unicorn denim vest...Love that punk rock feel and crafty touch!
This trend is a great one to hop on for shops that service a majority of budget and environmentally-conscious quilters...encourage them to recycle vintage tops and purchase a new pattern and lining fabric from your shop, or upcycle a thrift shop jacket and add laser-cut applique to it! The options are endless, but we love this style and hope quilted clothing becomes more and more mainstream!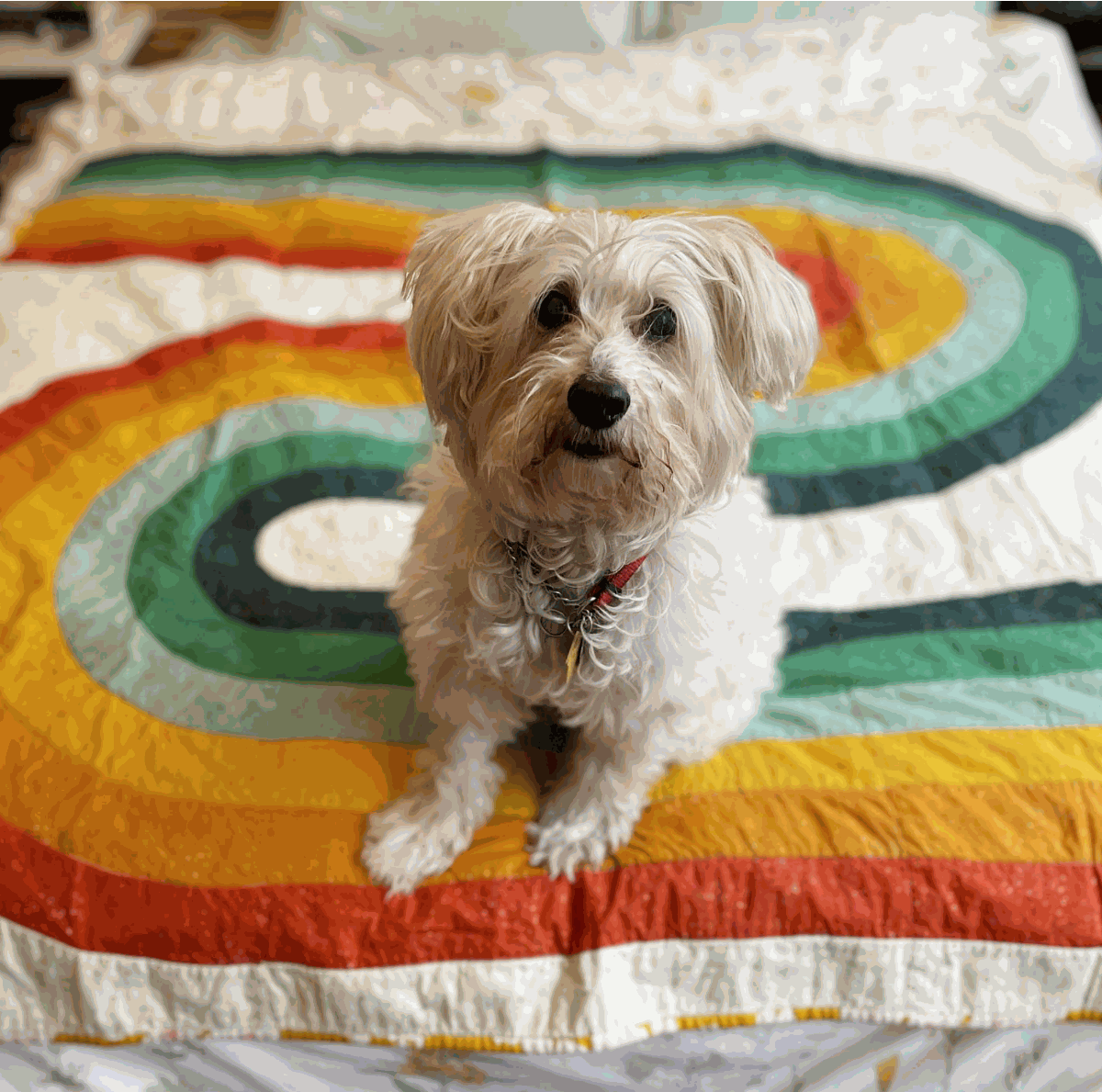 Ruby Star Society introduced brazen new color palettes and vintage pattern "Looper" a couple years ago, but we're starting to see these trends catch on like wildfire, like with Giuseppe Ribaudo's (aka @giucy_giuce) collection "Nonna," inspired by his grandmother's home and vintage style. We are ADORING everything about this!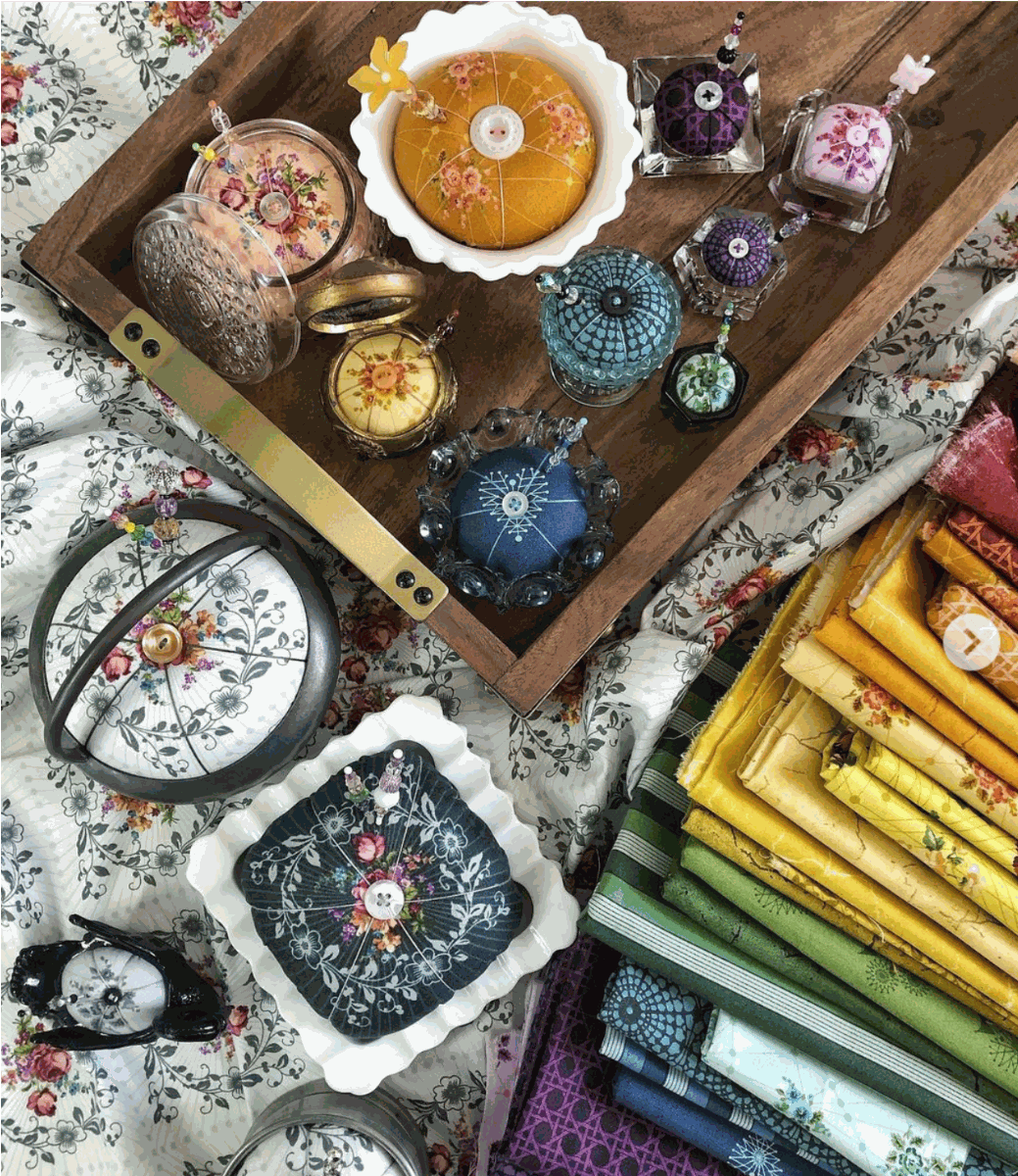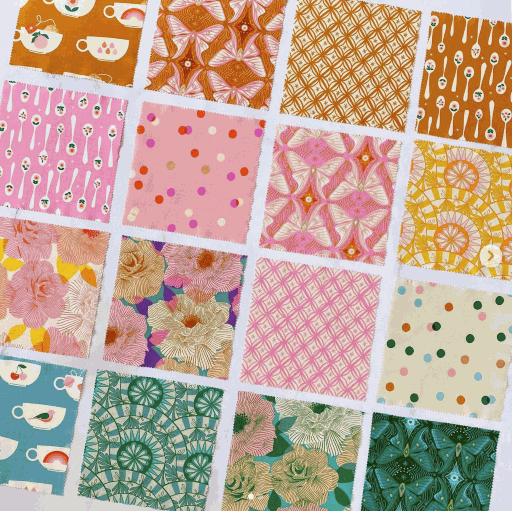 Try just kitting a pattern featuring curved piecing or vintage blocks with fabrics you already know perform well in your shop, and see how the kits are received by your customers.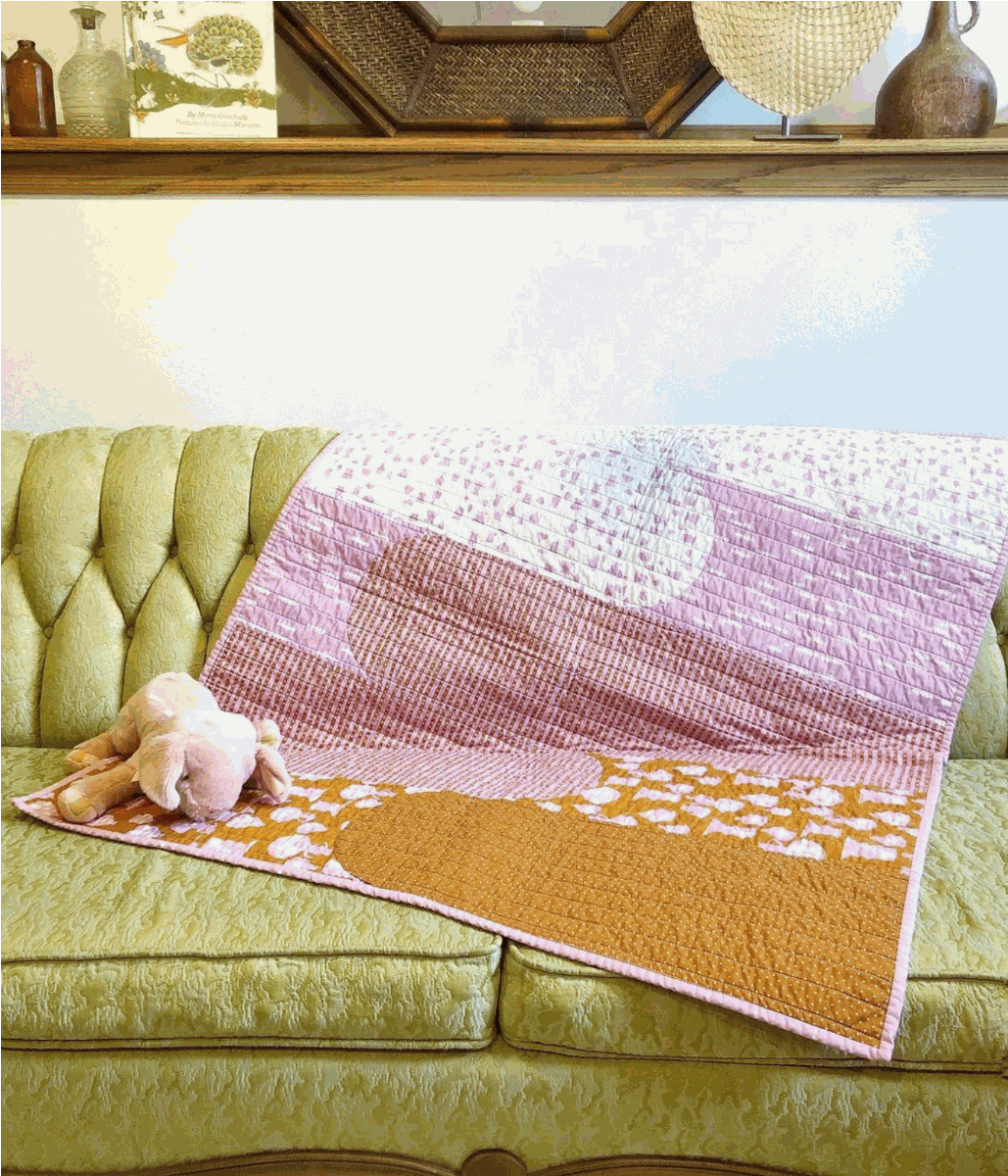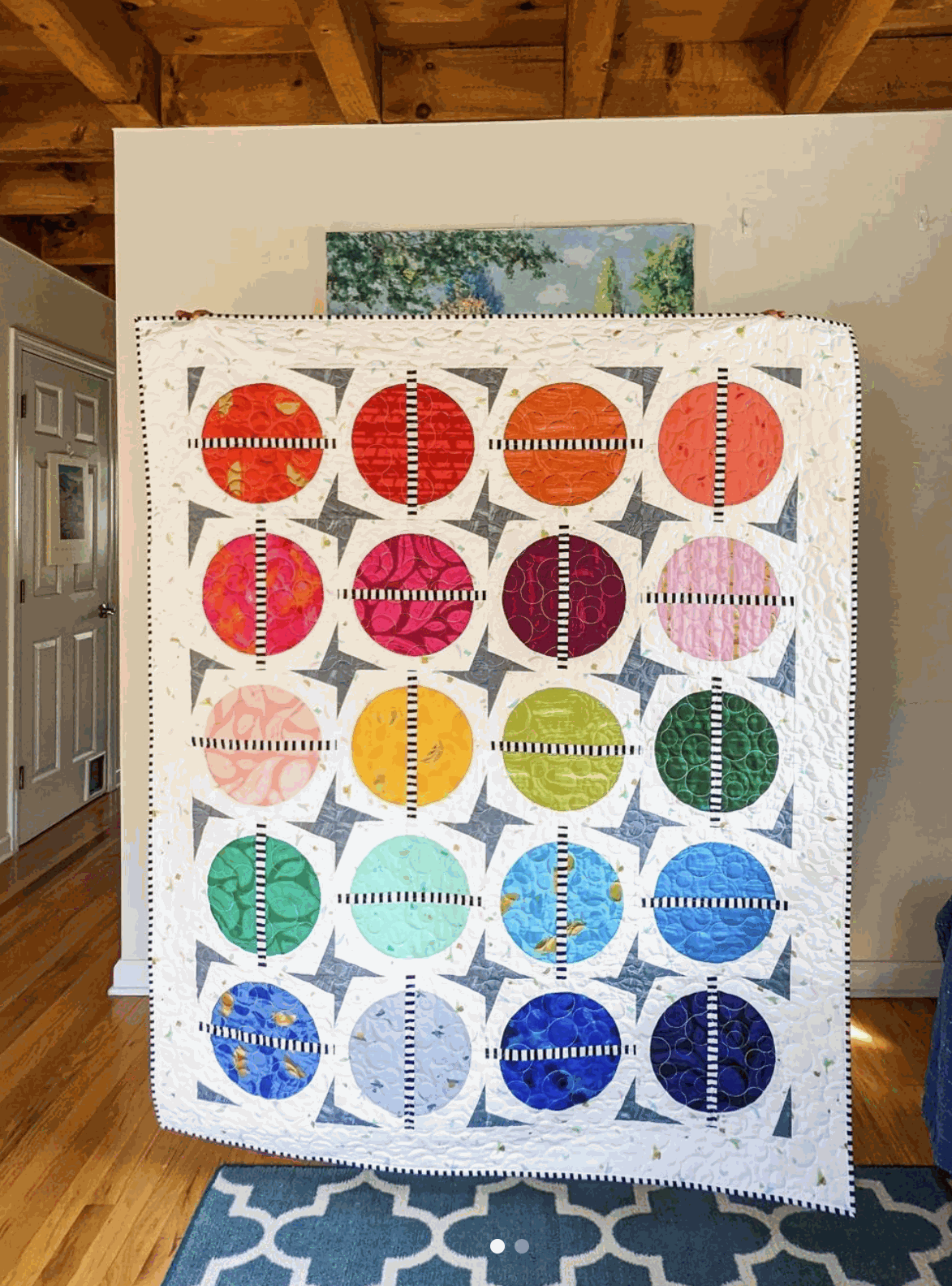 We've seen a resurgence in recent years of EPP, traditional paper piecing, and highly detailed piecing, and now, we're noticing curved piecing makes and pattern releases coming in HOT! 
Check out this delicious "Pom Pom Galaxy" quilt, made and designed by @satomi_quilts. Out of this world! And this cool "Posh Snowball" quilt, designed with the @sewkindofwonderful ruler, and made by @schnigschnagquiltsandmore.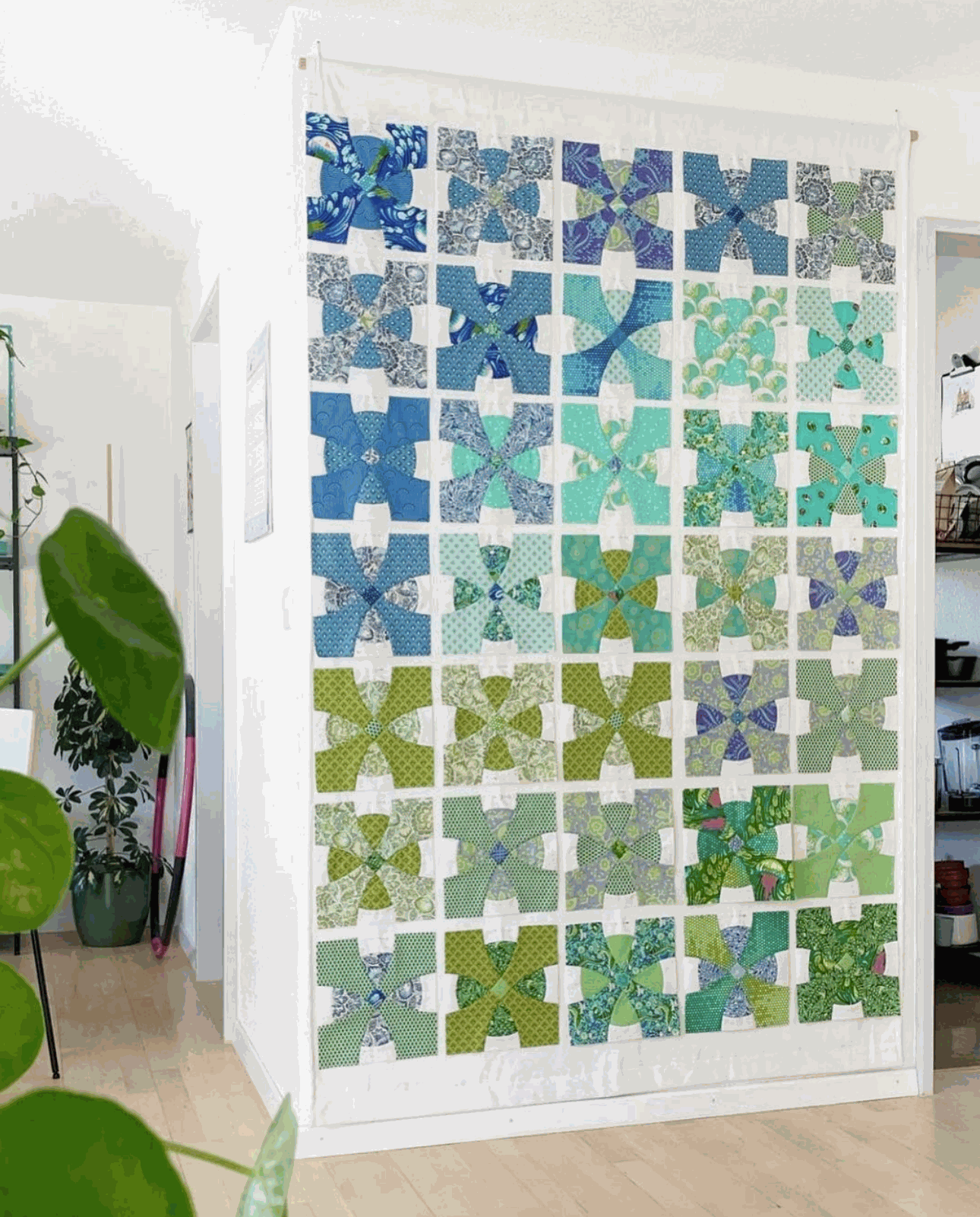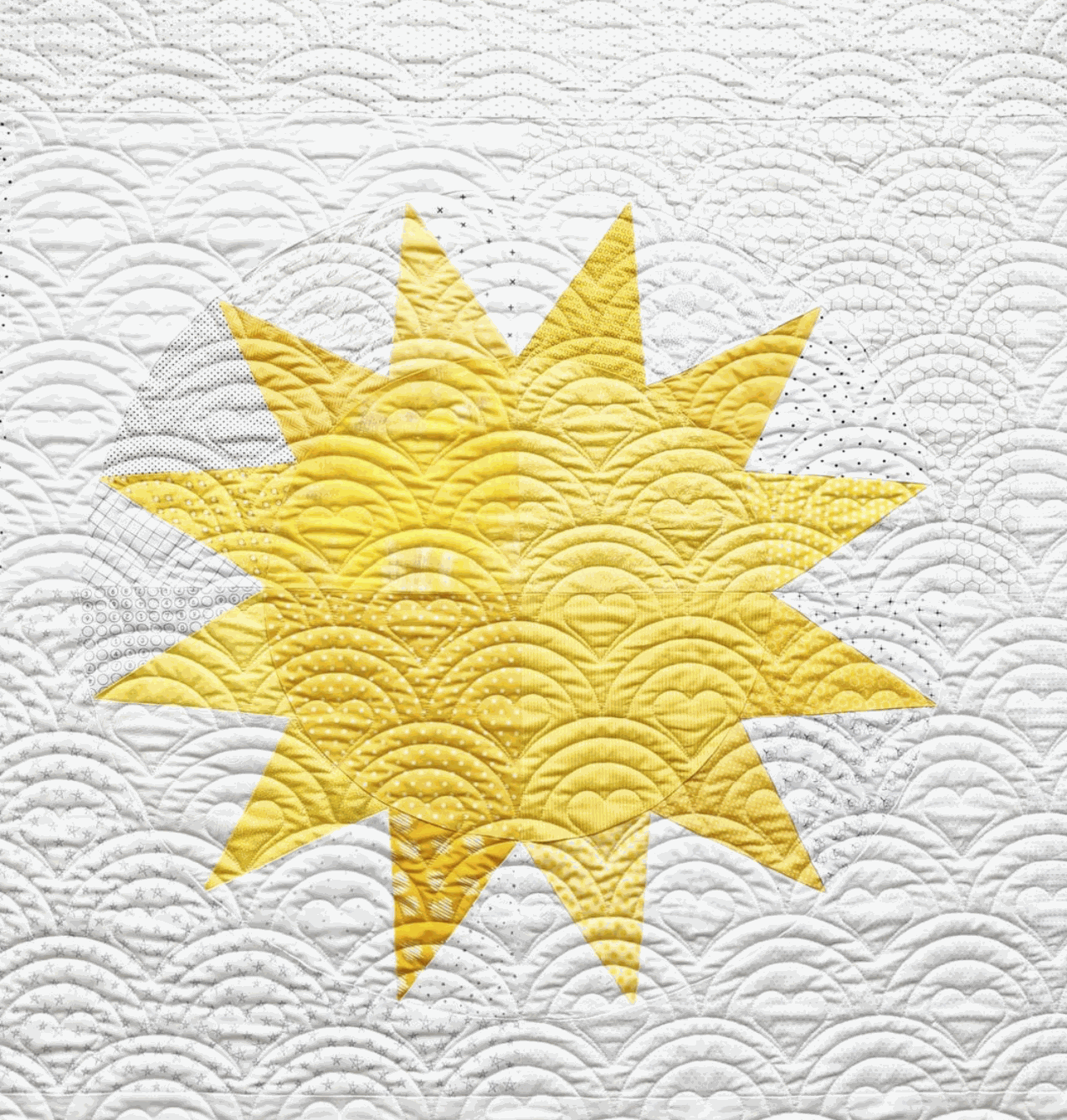 @centerstreetquilts' simple but striking "Sunshine" pattern using curved piecing--so lovely.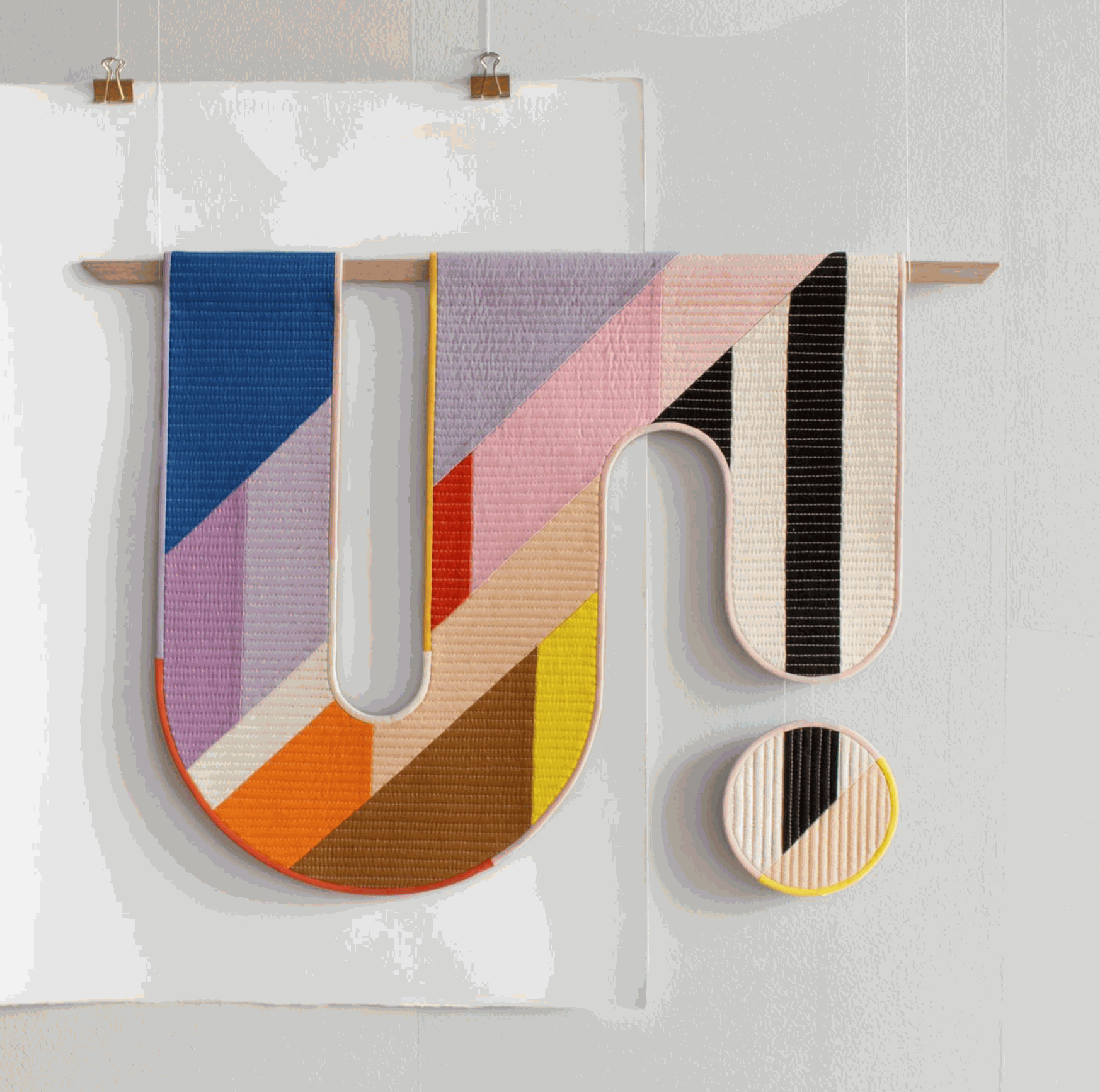 @emilyvanhoff sells quilt art online, and has several pieces like this "Squiggle" to inspire people's living spaces.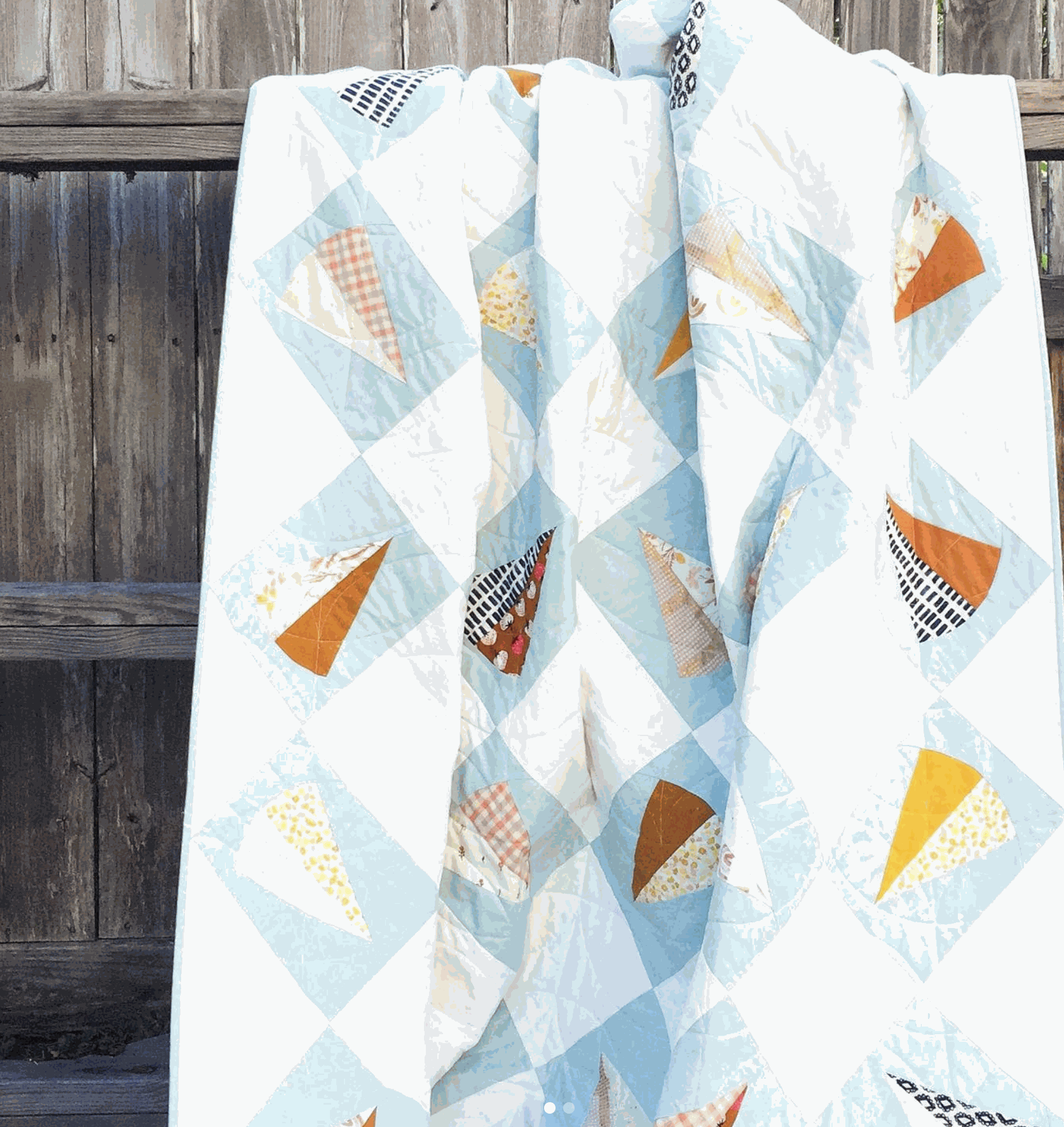 @jacquegering's pattern "In the Sky" is uncomplicated and playful--just the kind of vibe we're going for in 2022. Quilt made by @megancollins_a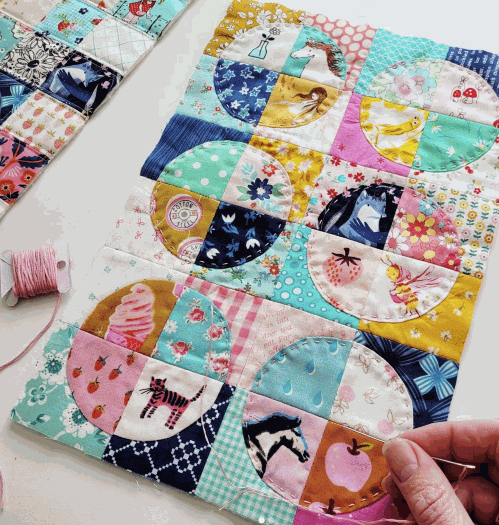 @rosie.taylor.crafts made a Drunkard's Patch mini with tiny hand stitching and we are OBSESSED. Excuse me while I go make a million of these.
If your customers are nervous about embarking on the journey of curves, try adding more notions to your teaching/demo repertoire like @sewkindofwonderful Quick Curve Ruler, or consider having kits pre-cut just for your shop so your customers can pin and start sewing without the headache of cutting curves with a rotary blade. Regardless, we love this new trend and can't wait to see the joyful makes that come from it!

This has been an ongoing trend, and we expect to see even more of it in the quilting world, with Pantone's color of the year coming in at "Periwinkle," a blue-purple pastel. Previously, we've seen some untraditional color palettes, like with Ruby Star Society's rusts, pinks, and cobalt blues mixed in, but prepare yourself for an even wilder ride this next year...Grays are out, and beige, brown, and rust are here to stay!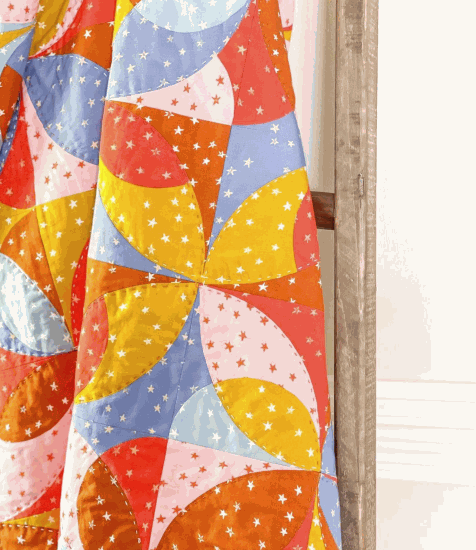 Well what did you expect?! We didn't JUST mean browns! We quilters love our color too much. But think in terms of lighter hues and less color saturation--there'll still be rainbows...don't panic ;)


"Starry" by @alexiamarcelleabegg is a great example of what's to come, with a palette of oranges,browns, yellows, periwinkle, and fuschia. So untraditional, but somehow it WORKS!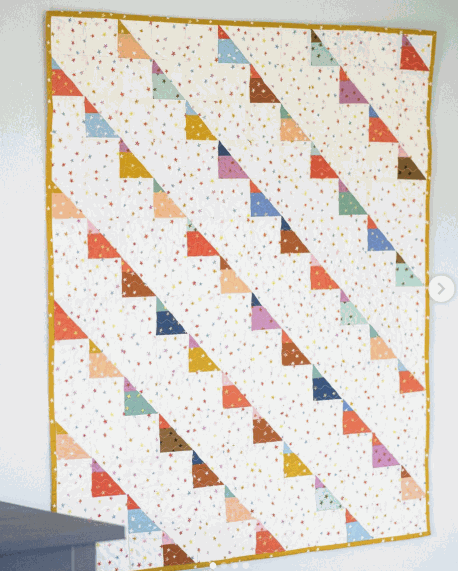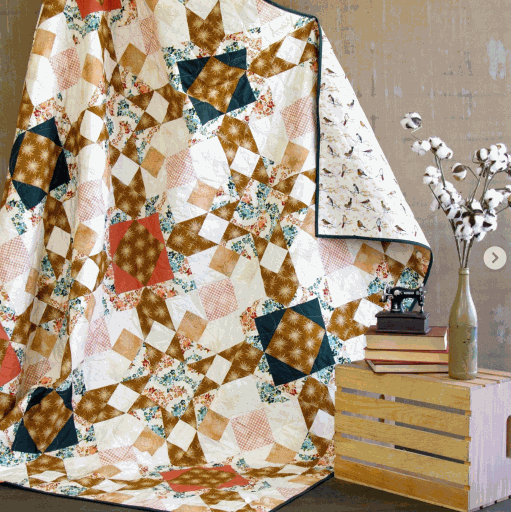 A free pattern by Art Gallery Fabrics "Reminiscence" showcases a beautiful palette of blush, rust, red, and navy colors from Maureen Cracknell's "Gloria" collection.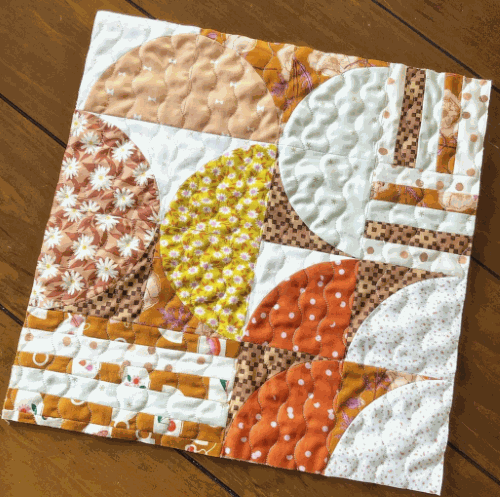 @eastriver.stitch used up her leftover curves from other projects in this mini and we are digging all those prints, especially the ditsy florals!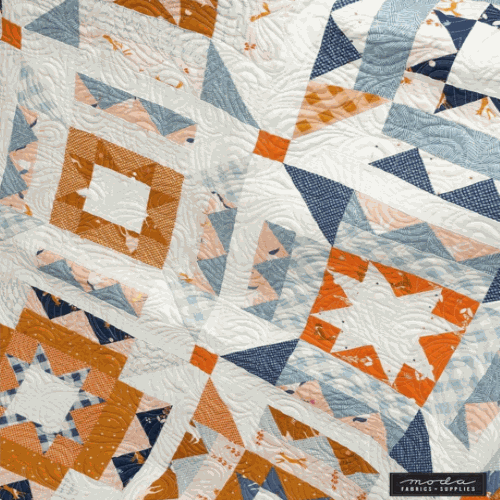 @aneelahoey's "Meander" fabric shines in @thencamejune's pattern, "Nova Star." We live for those orange-reds, blush, navy, and periwinkle colors!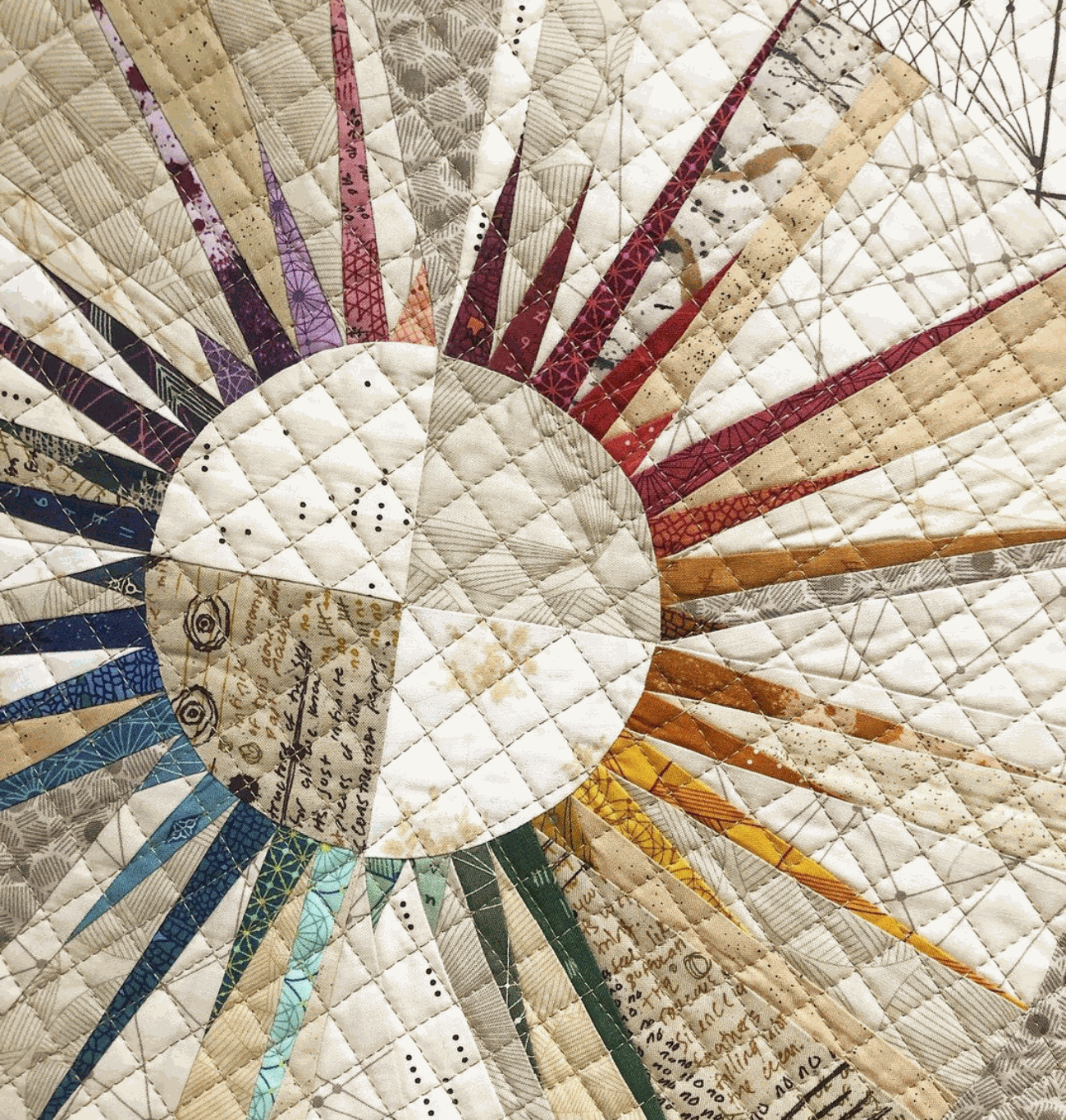 @giucy_giuce of Andover Fabrics displays a variety of fabrics from his most recent collections with a modified New York Beauty block. 
Try easing your way into this trend...your customers shop at your store because they LIKE what you stock already! Set an example of forward-thinking, though, by showing them a palette they haven't already seen or used. People are hesitant to try new things if someone they know hasn't already tried it! The beautiful thing about this trend is that it suits the modern and traditional quilter alike. Play with color, hue, saturation, and palettes, and see what sticks!
We've already seen the tropical trend come to life with fabrics like Tula Pink's "Daydreamer" collection, but expect it to go mainstream in the quilting market with motifs like rainbows, sandals, palms, beaches, and pineapples. It's a matter of science that we're gravitating toward those themes when all of us have been forgoing our vacations. Other themes that we predict won't go unnoticed in the quilting world this year: space, mental health awareness, and food!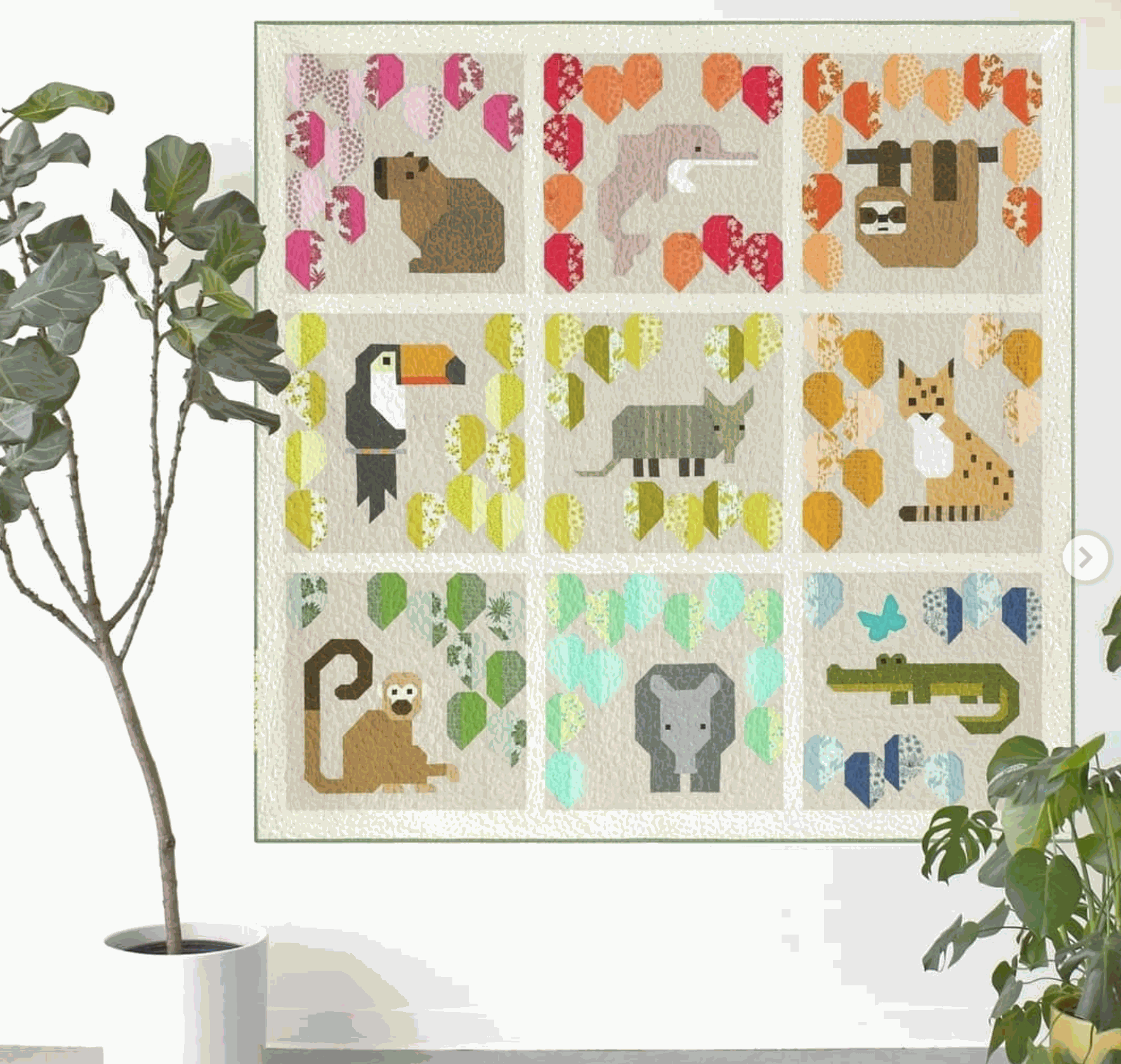 Case in point: @elizabethagh designed this "Rainbow Rainforest"  featuring Amazon-dwelling creatures like an armadillo, capybara, and tapir surrounded by lush rainforest leaves...so darling!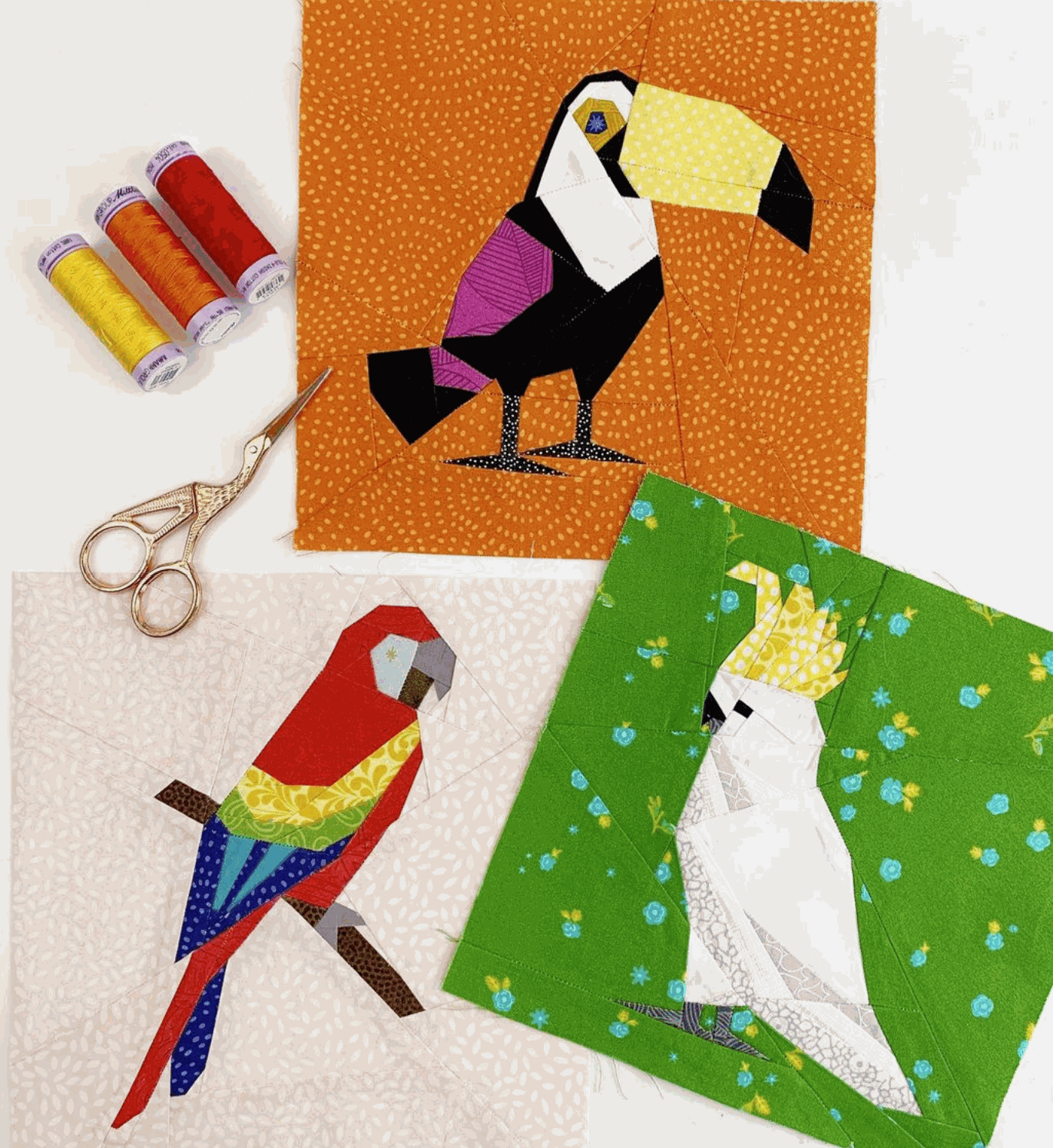 @joejuneandmay designed stunning paper-pieced tropical bird patterns...go check out her menagerie of FPP--it is incredible!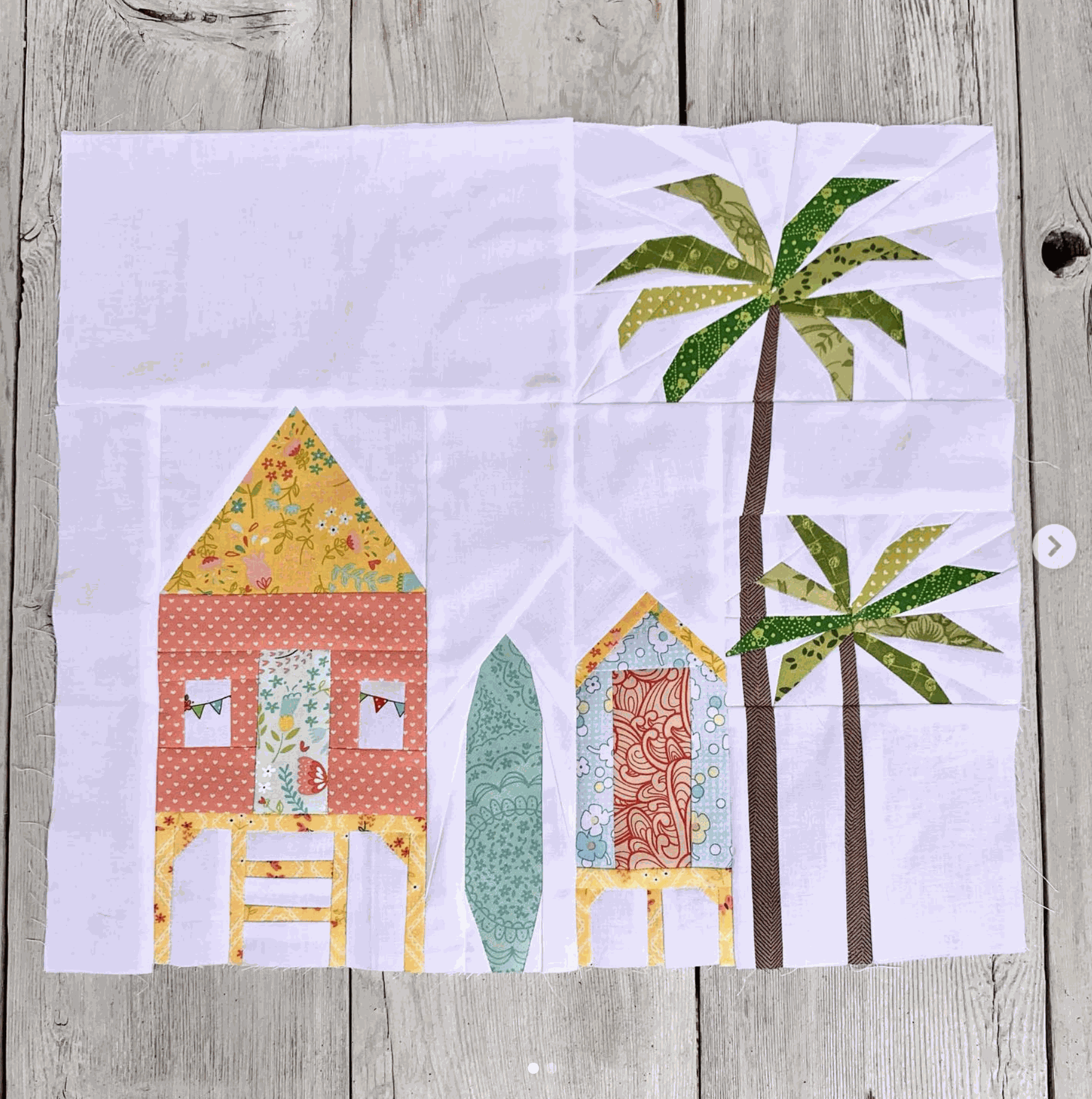 @carrieanniequilts designed this beach house FPP block, and to say we are obsessed is an understatement. Those palms are luscious, and I'm dreaming of Hawaii now...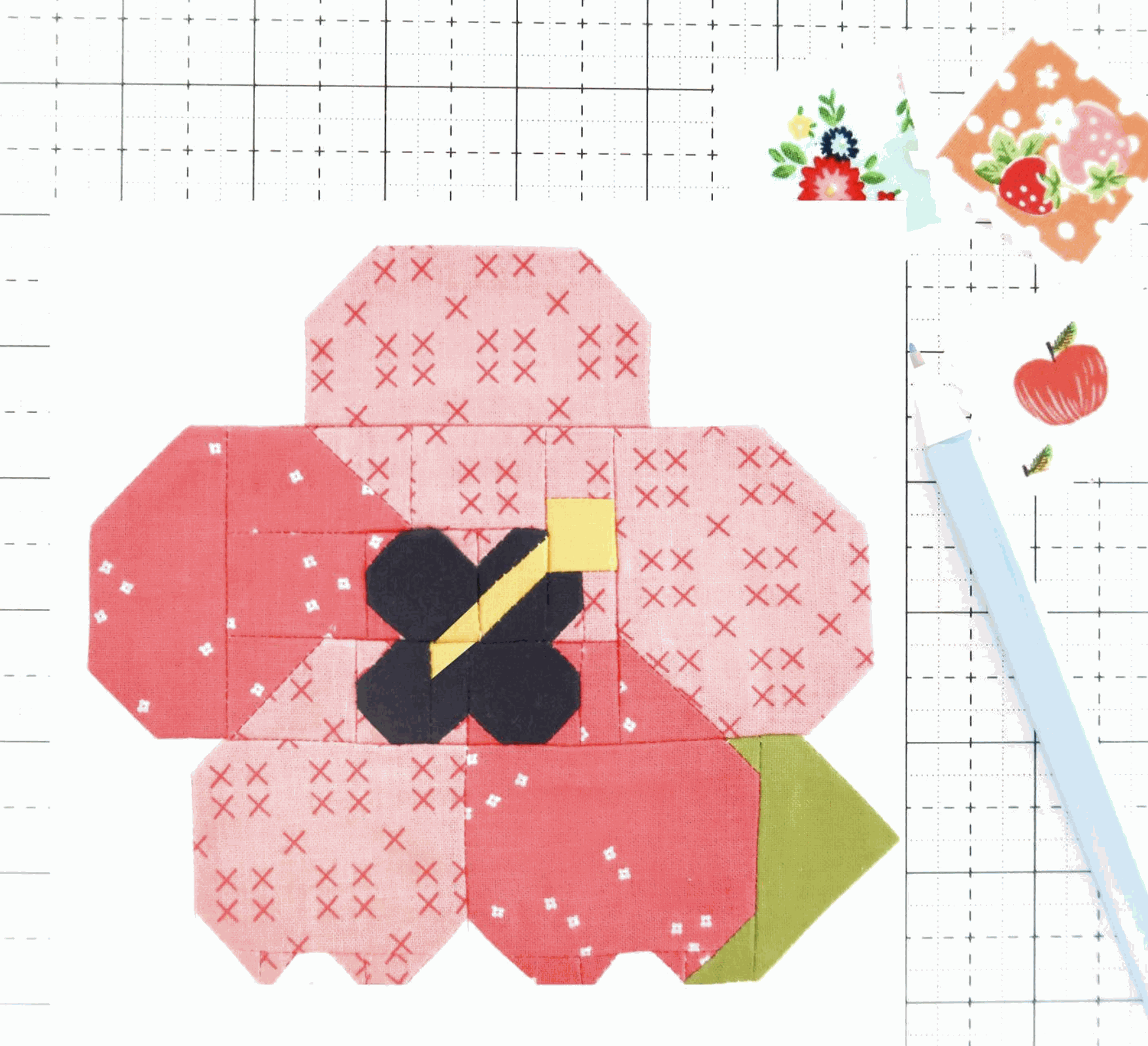 Burlap and Blossom Patterns designed this whimsical, traditionally-pieced hibiscus flower block. Simply stunning!
If you're not already itching to make every single one of those projects, are you even a quilter!? Haha we joke, but we're so excited for what's to come in the year ahead. For easy kits to put on the shop shelf, take a peek at some of our tropical-themed laser-cut kits for ideas on how to bring some vacay-attitude into your cozy shop. 

Thanks for reading, and let us know in the comments what other market-related topics you'd like to cover or what upcoming trends you see becoming a reality. Happy quilting--may we have the best year yet!
With love and admiration for all of you,
-The Laser Cut Quilts Team-