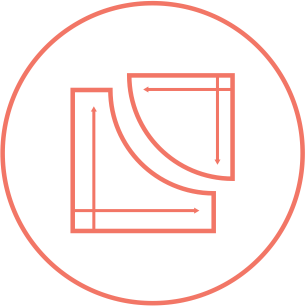 Acrylic Printing & Cutting
Why Opt for our Custom Acrylic?
1. Fast turnaround: We have a 2-4 week turnaround time (depending on quantities).
2. Stellar accuracy: We guarantee accuracy within .01 inch (10/1000ths) for our acrylic rulers.
3. Budget-friendly: We offer small quantity batches, as low as a $200 minimum for all acrylic orders. Price breaks are also available for larger-batch production.
4. Customizable: Match your brand colors with any color of the rainbow: fluorescent, clear, glitter, or glass-green acrylic! Our UV printing service allows for one-color or multi-color printing with less set-up fees than laser engraving or traditional screen-printing.
*Please note we do not offer single rulers due to setup times.


For Pattern Designers:
Designed a pattern that could use an acrylic template? Get started by sending your design to custom@lasercutquilts.com for a free, no obligation quote. We carry several colored or clear acrylic options, depending on your preference, and can cut in small quantity batches to get you started.
For Shop Owners:
Whether you're looking for pragmatic giveaway items for your upcoming Shop Hop event or would simply like to make higher margins on custom branded acrylic notions, send a short email to custom@lasercutquilts.com describing what you'd like and how many (with a picture, if you have it), and we'll get the ball rolling for you!